The US Outdoor Store - Sponsoring Irish Climbing On-Line Since 2002
In 1966, two hiking enthusiasts founded a small retail store in the heart of San Francisco's North Beach.
The Company soon became known as The North Face, a retailer of high-performance climbing and backpack equipment.
(The name was selected because in the Northern Hemisphere, the north face of a mountain is generally the coldest, iciest and most formidable to climb.)
At USOUTDOOR.com you can find north face backpack, clothing, denali jacket, sleeping bags, north face clothing,
expediton tents, running shoes, hiking boots, snow gloves, climbing gear and bags from The North Face Store at US Outdoor.
In 1968, The North Face began designing and manufacturing its own brand of high-performance mountaineering apparel and equipment, and in the early 1980s, extreme skiwear was added to the product offering. By the end of the decade, The North Face became the only supplier in the United States to offer a comprehensive collection of high-performance outerwear, snowboard clothing, skiwear, sleeping bags, packs and tents.

In Spring 1996, The North Face made its debut in the sportswear market with the launch of TekwareŽ north face clothing, a collection of high-performance sportswear made from advanced materials using innovative construction. The TekwareŽ collection was designed to provide rock climbers, backpackers, hikers, trail runners and outdoor enthusiasts with the ultimate in fit and function. Later that year, the Company acquired A-5 Adventures, Inc., adding portaledges and other big wall gear to its collection of outdoor equipment. Fifteen months later, the north face announced a partnership with La Sportiva S.r.L., a premier manufacturer and distributorof climbing, approach, hiking and mountain footwear.
The North Face launched its own brand of trekking and trail running shoes in Spring 1999.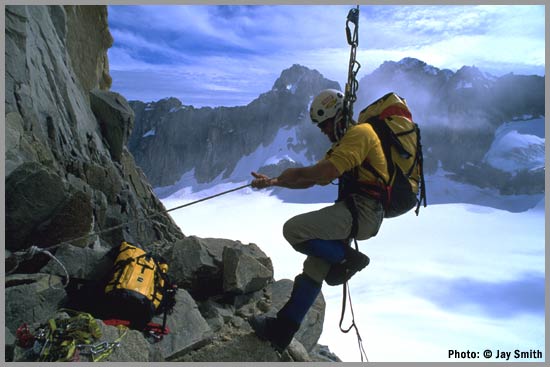 Now, almost forty years after its start in the outdoor clothing industry, The North Face provides an extensive line of performance apparel, climbing equipment and footwear. Offering the most technically advanced products on the market, The North Face is the choice of the world's most accomplished climbers, mountaineers, extreme skiers, snowboarders and explorers. The North Face is committed to pushing the limits of design, so that you can push your limits outdoors
-- never stop exploring.